TO THE BREAST FOUNDATION?
Can you believe I actually said that to total strangers in Orchard Road?
Last Saturday, I was at Tangs Orchard helping the Breast Cancer Foundation do a charity drive.
I've not done one-on-one charity sales since my flag selling school days but since I've got all the time in the world these days, I decided to drop BCF an email asking if they needed help for their annual Breast Cancer Foundation Walk.
In 2005, I participated in the walk as part of Miss World Singapore '05 activities and I remember speaking with the dragon ladies (these breast cancer survivors form a dragonboat team that practice weekly and very likely to kick your ass) and was amazed at the exuberance and determination they have.

And following that walk, that night when the pageant was held, I had a question on stage "What's the one thing you would change about this competition?"
Stupid answers such as "removing all the other contestants", "changing the panels of judges" and simply snatching the microphone and announcing me the winner were considered.
But instead I said, "If there was a thing I'd change about this competition is that we could have done more for BCF than just participating in their walk. It would have been better if we could have volunteered to help out in other ways as well."
So this year, the BCF walk happens to fall on Oct 4th weekend, which is the 2nd anniversary of my HIJACK on Turkish Air TK1476 and I decided to commemorate the day by revisiting BCF.
All decked in pink, I started out to sell cookies and BCF pins for $5.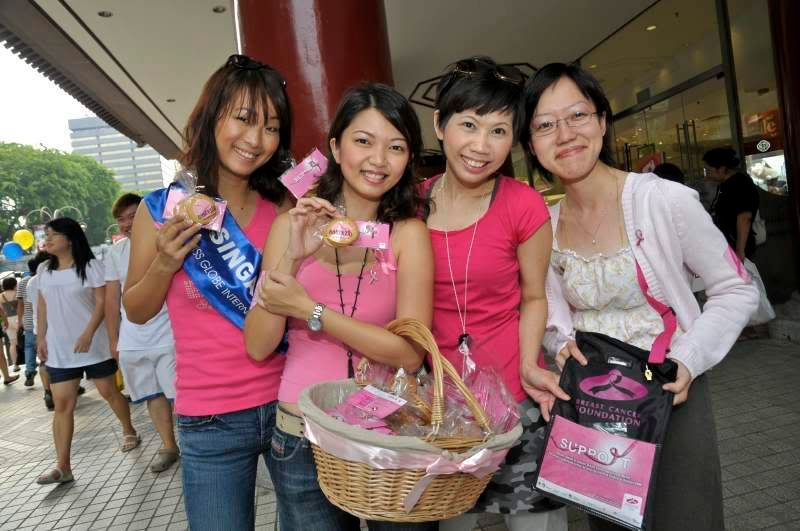 First i stuttered "Would you like to make a donation?"
Then it got longer "..to the breast foundation?"
Then i corrected myself "..to the Singapore Breast Cancer Foundation?"
Then I realise people thought I'm giving out the cookies for free. "….for $5 donation, you can receive this cookies and pin."
Then people start walking by really fast when they see me approaching.
And then there's those who 盗 铃 掩 耳, they think they are invisible just because they pretend they can't see me I can't see them.
Then I mastered the art of saying "Hi would you like to make a donation to the Singapore Breast Cancer Foundation? October is the breast cancer awareness month and we are doing this donation drive where for $5 donation you will recveive this packet of yummy Bakerzin cookies and this lovely crystal encrusted BCF pin" all under 5 seconds.
Because if you don't manage to stop anyone within the first 5 seconds of beginning your sentence, your chances of a donation drops as drastically as the Dow Jones.
At the end of the 2 hours, I've sold off all 70 pins assigned and returned back to base happy and a jingling full money bag.
And surprise surprise! The good people at Estee Lauder gave me a goodie bag for helping out!
The sense of satisfaction that money can't buy and I get all of this too!
Now who said charity work doesn't pay?