For a limited time only, you can have yourself a beautiful female companion for life.
Simply call 1900-Mia-Tan.
I am ready to be a taitai.
Afterall, I was schooled in the academy of taitai having spent 10 years in SCGS.
And to prove to you that I have the makings of a taitai, please refer to the following:

1. I look great in evening gowns for the gala dinners you have to attend.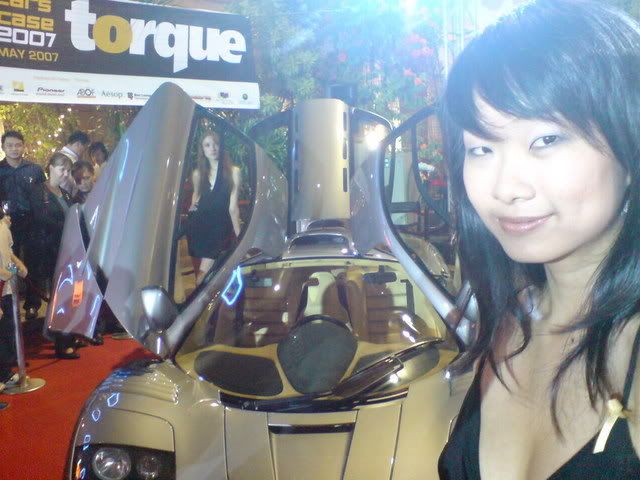 2. I look even better standing next to/driving in your spock car.

3. And for your eyes only, I look best without clothes.
4. Last but not least, I am taking cooking lessons.
And not just any Community Centre chefs, nah-uh no sir.
I tutored under Chef Emmanuel Stroobant, the man behind Saint Pierre.
Before the start of the lesson, the two chefs have a quick discussion.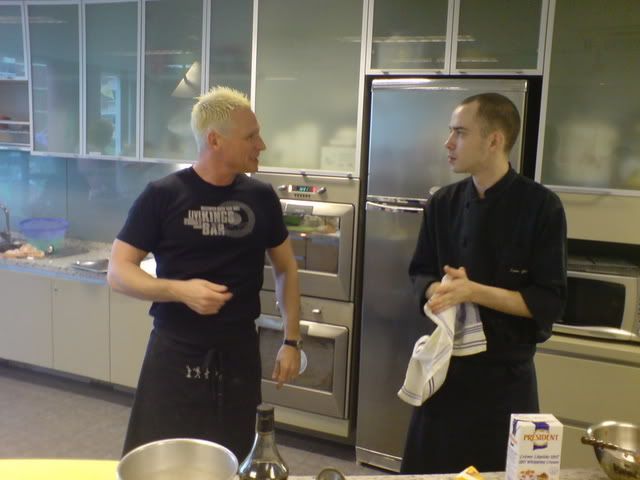 Chef 1: "Eh quick quick, what do we teach these brainless tai tais?"
Chef 2: "Aiya something simple that won't mess up their million dollar kitchen."
Chef 1: "Okok, and let's give it some fancy name so it sounds expensive."
First up Coq au Vin.
ooooh. big cheem french word.
It acutally just means Chicken in Red Wine.
Chef: "Ingredients are carrots, onions, parsley…….
"…….potato, chicken blah blah… who cares as long as you pour a bottle of wine in there."
*waves his magic wok and taaadaaah*

Next up, stuffed sotong!
Ingredients are diced tomatoes, carrots, onions, bread crumbs and SOTONGS!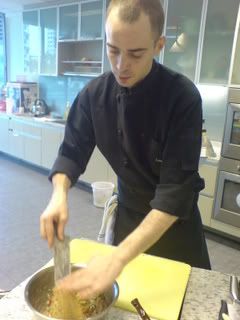 Chop everything together, toss in some olive oil, pepper and salt to taste…
and then stuff the blardee blur sotong until it's bursting at its sides!

easy peasy right?
Then toss it into the oven to bake until it's cooked.
Remove, slice it into pieces and serve!

************************************************************
Advertisement time!
POPQUIZ:
TELL ME WHAT IS WRONG WITH THIS PICTURE.
************************************************************
And now, back to the program and for the dishes we've all been waiting for.
DESSERT!!!
CREME BRULEE!!

"Ok look girls, this is one of the easiest dessert to make.
Make sure you have eggs, cream and sugar.
You can mix it with anything for extra flavour, espresso, lime & ginger, passion fruit anything. For today, we are gonna do it with basil leaves and a little grated lemon zest."

Whisk everything together into this creamy pot, separate into a few cups and bake in oven for 20 minutes.
When it is ready, sprinkle some sugar over the top and flame it!
Now for the final takeaway dessert.
CHOCOLATE TRUFFLES.
This is lagi even more easier.
Chocolate and cream.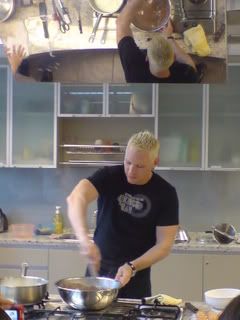 Heat the cream. Pour over the chocolate. Mix rapidly until chocolate melts. Leave it to cool.
Mould with your hands.
And ladies, may i present to you this perfect example of a man.
Cute, big strong arms, toned bod, great sense of humour, good with pesky kids sticking their fingers into food in the kitchen, and best of all…..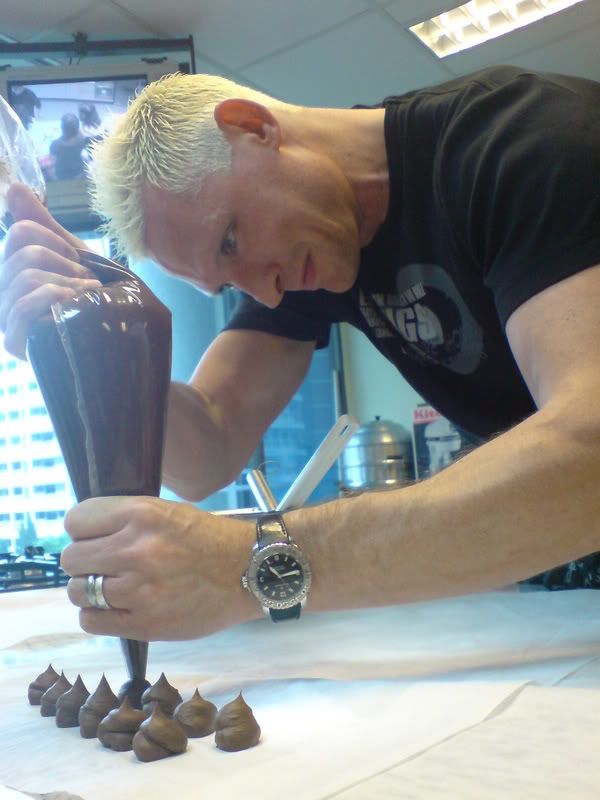 HE MAKES CHOCOLATES!!!
Unfortunately, he is also married.
*ahem*
Therefore, i am STILL a young eligible taitai-to-be.
AND I CAN COOK FRENCH NOW!
ITALIAN CLASS COMING UP IN SEPTEMBER WITH MICHELANGELOS!
So grab me today!