Spent the whole of last week with 3 different dogs.
That's more than the number of men I date in a week.
Meet COBY, my sister's dog, who looks alot like Windsor.

And Cosworth, cozzie for short, who's been to more countries than i have.
Here's Bbop (pronounced bee bop)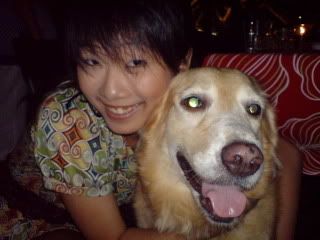 Sick of those "Why a beer is better than a woman" jokes?
I've come to realise 5 good reasons why a dog is better than a man.
1) They come when you call.
No longer do you have to keep checking your handphone every 5 minutes, in hope to see a message from him, asking you out.
Now you just have to call out his name and you'll see him running around the corner.
2) They are always eager to please and so much easier to please.
3) They are more handsome than most men i know, and better yet, while the other girls gush over him, you know he'll ONLY go home with YOU.
4) They are also a WHOLE LOT smarter and obedient than most men, being able to understand basic commands like sit, lie down, shake hands and don't pee all over the floor.
5) Last and at the very least, damn, we know that they are good with their tongue.