*WARNING* *WARNING* *WARNING* *WARNING* *WARNING* *WARNING* *WARNING* *WARNING* *WARNING* *WARNING* *WARNING* *WARNING* *WARNING* *WARNING* *WARNING* *WARNING* *WARNING* *WARNING* *WARNING* *WARNING* *WARNING* *WARNING* *WARNING* *WARNING* *WARNING* *WARNING* *WARNING* *WARNING* *WARNING*
Please proceed with caution.
The images accompanying this entry are untouched and not edited, only resized for web publication.
It is to be presented in its raw form and in true honesty.
It may also cause slight discomfort to some.
***********************************************************************
I was referred by an anonymous apparition for a complimentary makeover at Naughty By Nature, and at the end of the shoot, i get to keep 2 of my best shots "America's Next Top Model" style.
Not too keen to go intially, been to too many makeover studios and had too many crappy photos out of those, I don't have much faith in this image consultant that I've never even heard of.
Armed with a cynical and a "let's just get it over and done with quick" attitude, I stepped into the shophouse that spans 3 storeys of creative work.
The reception area bowled me over. To my right, there were rows of iMacs and many clients viewing their "after" shots.
The lounging area had most of the fashion mags on the table.

I was greeted by, guess what?!, an angmoh. Looking very young and all eager to please, he took me through the basic expectations of the shoot.
Aiya not my first time shooting what, i thought sniggering.
"Over here, we make the shoot fun and amazing so just relax, and enjoy yourself. At the end of the shoot, you will love the shots we present to you."
ya ya ya. can we move along now?
At the makeup room, there were almost 10 makeup artists and hairstylists and ALL of them were busy with some clients.
Woah, i thought. This is quite a big scale studio huh. And the wardrobe they have are massive! From costumes to ballroom gowns, you can be catwoman one minute and Princess Fiona the next.
Seated to get my first casual look makeup done, I knew i was in safe hands when I saw a familiar face, Lorraine, who did my makeup for the Miss Singapore World pageant in '05.

In the white room (the room is all white duh), I had a "warm up" shoot with Sam who made me roll all over the floor, star jump and frame myself with a hula hoop. She quickly snapped away and I was released unharmed.
I was more excited about the 2nd look, as I had a firm idea of what I wanted out of it. I had brought along the dress, asked for my hair to be curled and eyes smoked.
The cute angmoh was back in a different room this time, with photographer Kelvin.
We had briefly flipped through some mags and agreed on a more fashion angle earlier, during the "getting-to-know-you-so-must-make-small-talk" time at the lounge area.
So he also seemed to have an idea of what he wanted out of it.
He dealt me some poses with a sofa, some time balancing precariously on one high heel and some time tantric moves.
I hoped then, that what he had in mind was also what i envisioned.
Well, turns out, there was no cause for worry.
And when he said I would love the shots presented to me, he wasn't lying.
=====================================================================
And here are the 2 best shots.
Again, I remind you that the following photos are not photoshopped.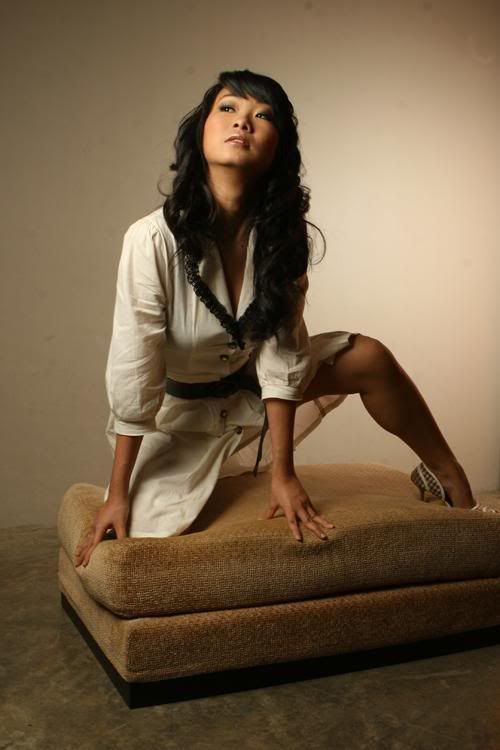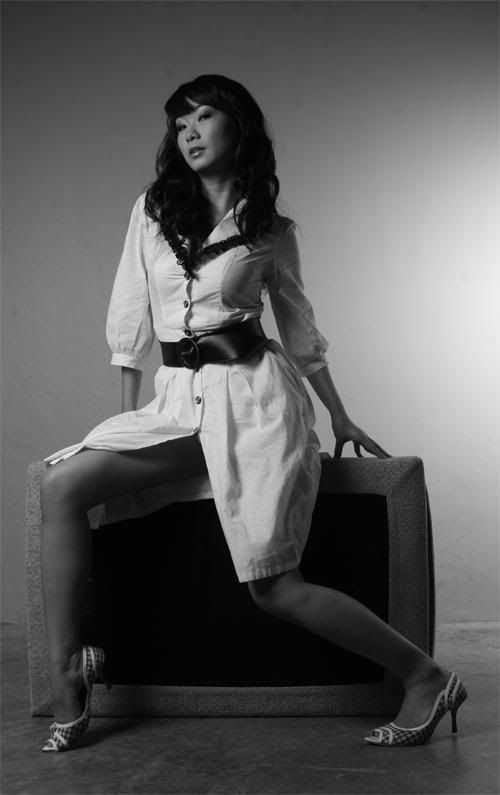 Want some gorgeous shots of yourself? And candid images of your kids? How about heartwarming photos of the family?
They are so exclusive that walk-ins are not entertained. Only referrals.
So book yourself an appointment with Naughty by Nature at 6511 1171.
Oh, it's time again for some drinks with that cute angmoh soon. ;P