I've never done a hair show before.
That is until now.
And i guess, i was right about not doing hair shows before.
See, when i auditioned for the paul mitchell show, they said minimal cut and the colors will be rich dark colours.
Sounds good.
On the day itself, i got my hair trimmed and layered.
Then the stylist whipped out the bleach.
wwooooaaah.
Hold your horses.
bleach?
"Ah don't worry, trust me ok. the colours will be nice one. dark purple and blue, then the rest of your hair is blue black. Very dark one. dont worry."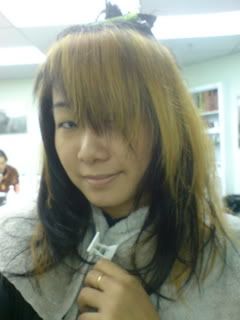 sibeh lian lor. my virgin bleach
So the colours were all mixed and thankfully, they DID look quite dark.
I was relieved.
Temporarily.
"Eh…i think hor the blue and purple very close. Cannot really tell the difference. I give you a dark pink ok?"
pp..pppinkkk???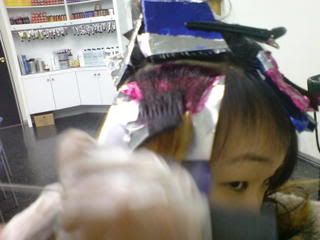 Ok la, i thought. Just pink and purple streaks beneath that dark hair.
Not that bad lah…..hor?
buey tahan lah! so old already still pink streaks. trying to act young ijjit!
chao ah lian.