This is just gonna be a photoblog.
Over the weekend, we gatecrashed the Miss Singapore World 07 Pageant at Meritus Mandarin.
Man. It was TWO years ago since I participated and it still felt like yesterday!
Still remember the panic when first stepping on stage.
The frenzy of changing clothes backstage.
Especially the "What-if-i-forget-my-steps-or-fall-on-my-face" thought that keeps racing through my mind.
And of course…the announcement.
The media fest surrounding the crowning itself is exhilarating!
Ahh…those bittersweet memories.
Well, the experience belongs to the new batch of contestants now.
For veterans like us, we spent most of our time goofing and camwhoring off stage!
Group shot with all the Mr Singapores who chaperon the girls on stage.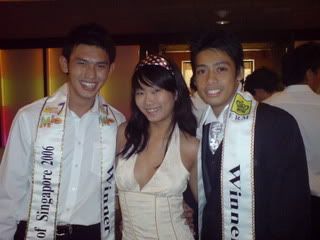 Our darling Robert, who always shielded us from gossips, bitching and scolding from the organisers, arranged for press and what more can i say. He's a gem.
Presenting the veteran pageant queens!

Melissa and Xiaoqi!

And Joanna, making yet another appearance. That girl's everywhere!
oops.
i forgot.
the actual winner.
Cliche but true. We are ALL winners!