Idiosyncracies means quirks or "characteristics, habits, mannerisms, or the like, that is peculiar to an individual"
I don't know why it is derived that way but i'll bet half a dollar it had to do with the word IDIOT.
Then again if that's the word-related case, I'd think that idiosyncracies had something to do with supercalifrigging difficult words that relates to IDIOms, SYNonyms that crack your CRAnial nerves.
Like supercalifragilisticexpialidocious should be an idiosyncrasy.
Anyway, doesn't bother me. I've always had problems with English growing up.
I remember going for my first day of Primary School without even being able to say "Hello, my name is."
But damn I can rattle off a conversation fluently in Mandarin.
Which turned out to be quite "loser-ish" I realised later on in my teenage life.
See, when you are schooling in an English-speaking school, all the cool kids could pronounce their R's and L's, yet you have difficulty remembering names like Daphne.
It JUST isn't pronounced the way it is spelt!
And all the kids will give you the funny look when you never had to struggle with Chinese 听写 or 作文..
And believe you me, when you are the appointed Chinese rep in my schools, you ARE made to believe you are a freak of nature.
So, to embrace this fault of mine, this inadequacy, this idiosyncrasy, i shall embrace it and glorify it by:
FEATURING 成语 , 谚语 and 歇后语!
What's the difference between the three?
*shrugs* I also don't know.
成语: 狐假虎威
歇后语: 猪八戒照鏡子
谚语: 不管黑貓白猫,抓著老鼠就是好猫
I know!! It simply gets longer and longer!
For 成语, it is usually 4 letter word and is quite literal.
For 歇后语, it is somewhat like a riddle and you have to guess the meaning. Kinda like a sacarstic 成语.
And a 谚语 is just a way of talking in a roundabout manner about a simple thing, just so that you sound atas.
不管黑貓白貓,逮著老鼠就是好貓 literally means "doesn't matter black cat or white cat, can catch mouse means is good cat".

Doesn't matter what mouse either.
猪八戒照鏡子 literally means "Pigsy (from Journey to the West) looks into a mirror".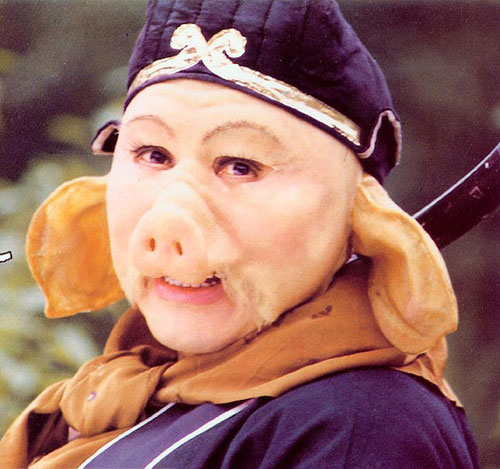 There is a followup line of "里外不是人" which translate the cryptic message into "non humane inside out".
狐假虎威 fox fake tiger authority. Someone's trying to act big because of powerful backings.
Legend has it that a tiger caught a fox one day and was about to devour it. The sly fox then sprung up and said "HEY YOU! You can't eat me, you'll be violating the laws of heaven! I've been sent from above to be the King of Beasts!"
The tiger 半信半疑 and upon seeing the suspicion on the tiger's face, the fox immediately continued, "Take a walk with me through the jungle, and you shall see for yourself, all the animals scurrying away and cowering in fear!"

So the tiger went along with the fox, and true enough, everyone of them little furries scrambled away!
Hence, the tiger did not devour the fox!
Cool story eh?
That's why I say 华语 COOL!