I am glad that Mother Nature have chosen my home, to show me the wonders she can create.
For several days now, i keep seeing this lizard in my garage.
Mum says she sometimes see it on our shoe racks.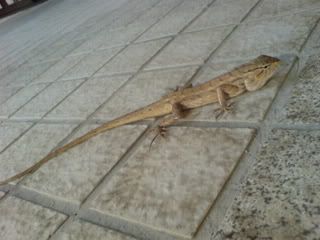 A month ago, i was in the shower. And i felt something at my feet. With soap in my eyes, i thought it was a bundle of fallen hair clumped at my feet, so i tried to rinse and shake it off.
Then i looked down and realised it was a baby lizard!!
The poor thing was trying to scramble away from the hot water!
I stopped the shower, stepped out, took some toilet paper and carefully picked it up and dried it off before letting it go, scurrying for safety.
Crazy right? I know, but i love lizards lah.
And, the shrub at my backyard, has an annual nesting.
I'm not sure what's the breed, it's brown with a white head and long tapered beak.
It's been occuring for years now, almost twice a year, they would build a nest in the shrub and lay 2 eggs each time.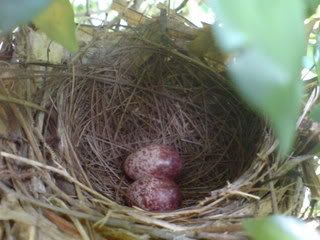 Tell me it doesn't look like those easter cadbury chocloate speckled eggs.
It hatches into 2 tiny birdlings. Both nestled against each other, hairless and all pink & boney.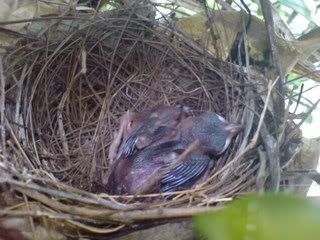 Over the days as i monitored them, everytime the leaves are parted, each will vye for attention by opening their tiny beaks, straining their shrivelled neck to expose the red throat that supposedly stimulates the motherly instinct in the mummy bird to stuff the wormy food in their mouths.
I think that somehow they resemble human babies except that babies make a hell lot more noise and are so annoying that i want to stuff soiled diapers down their throats.

Unfortunately, it is common that only 1 survives. This is due to either out of neglect or poaching by other animals.
And when their feathers are fully fluffed, they can be found perching on the lower branches of the shrub, learning to stretch their wings and take to the sky.
Kinda like babies too, right?