alright alright.
i hear you guys.
now hear me out?
Here's an excerpt of some lines from wendy's blog. (taken from various entries)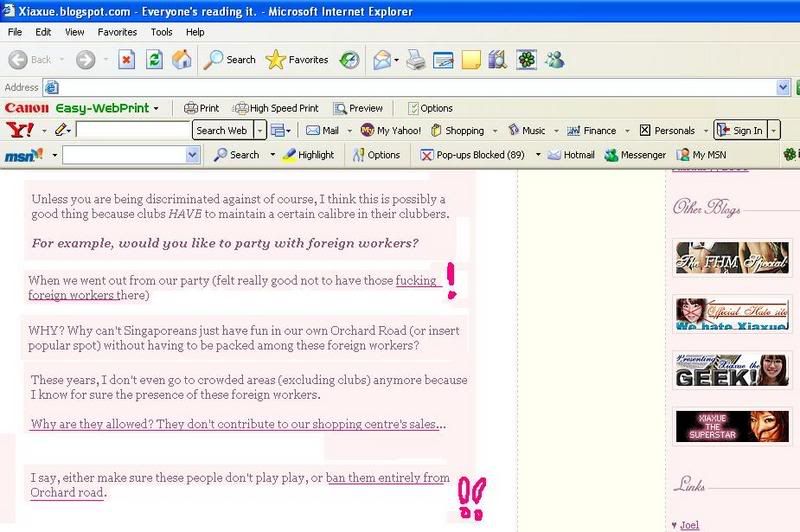 The reason for the childish petition stemmed from "Why are they allowed in Orchard road when they don't contribute to the shopping centre sales" and "ban them from Orchard road".
Thus the "ban wendy from orchard road because her dim wits don't compliment the christmas lights" petition.
I didn't say molestation is allowed, in fact i did applaud her for voicing it out.

When i spoke with Miss Australia during the Albanian trip, she spent millenium here in Sentosa and she was also a victim of molests.
She said she felt a finger go in and out of her during the foam party where the soap suds were up to their waists. When she turned around she saw a few dark skinned men standing behind her.
All the while when she was relating this story, she never used vulgarities or insults against them nor put them down. She only went on to describe how horrible the incident was and how scared she felt.
That was the reason why i "stuck-up-edly" told wendy to write more carefully next time.
When i helped out with teaching blogging modules in schools for www.campusmoblog.com.sg, i told the children, life is never fair and sure, you'll want to lash out at people or things that annoy you, but tell your story without incriminating others, me thinks.
There were other things on that agenda when we filmed that day.
My first agenda was to attack wendy on those racist remarks and hers was to attack my looks and body.
And why my job status on the papers terms me as a model when i do alot of other random stuff like teaching blogging, hosting, acting and organising jamie cullum's concert.
So naturally, we both became defensive on our end and i'm sorry if you were offended by my "oh i am so gorgeous high and mighty miss singapore globe" status but that was my only trump card standing for my lumpy pear shaped body.
Eh i really so fugly ah? Maybe i should ask mediacorp to send me for plastic surgery and do a reality makeover show hor.
*tsk tsk* that's the closet mediawhore in me talking again.
I think nash pretty much summed up how i felt about that segment.

thanks for all your comments and i take heed.
much to learn on my end as well and please la, kenny is not fat. have you seen him naked?
i don't really care whose side kenny or kelvin is on. i respect that they are friends of both ends.
So as this year draws to a close, i'll have reflections to make, new directions to embark on, fresh friends and old pals, dear family ties over pineapple tarts.
ohoh and more acs boys. *wink*
okok i don't literally mean boys, i just happen to like men with the ACSian heritage. big or small.