NEWS FLASH! NEWS FLASH!!
As of Thursday 24th August 2006, Pluto, which was discovered in 1930, has been debunked as the 9th planet furthest from the sun in our solar system.
What is the future of Pluto now that it's no longer a planet?
Rumour has it that Mickey the Mouse has adopted him and the only way you can see pluto is at Disneyland.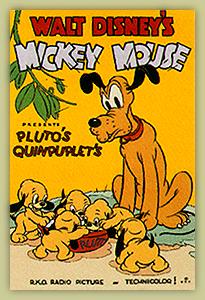 Pluto made his debut as a bloodhound in the Mickey Mouse cartoon "The Chain Gang" in 1930.
"The scientists agreed that, to be called a planet, a celestial body must be in orbit around a star while not itself being a star. It must be large enough in mass for its own gravity to pull it into a nearly spherical shape and have cleared the neighborhood around its orbit. Pluto was disqualified because its oblong orbit overlaps with Neptune's."